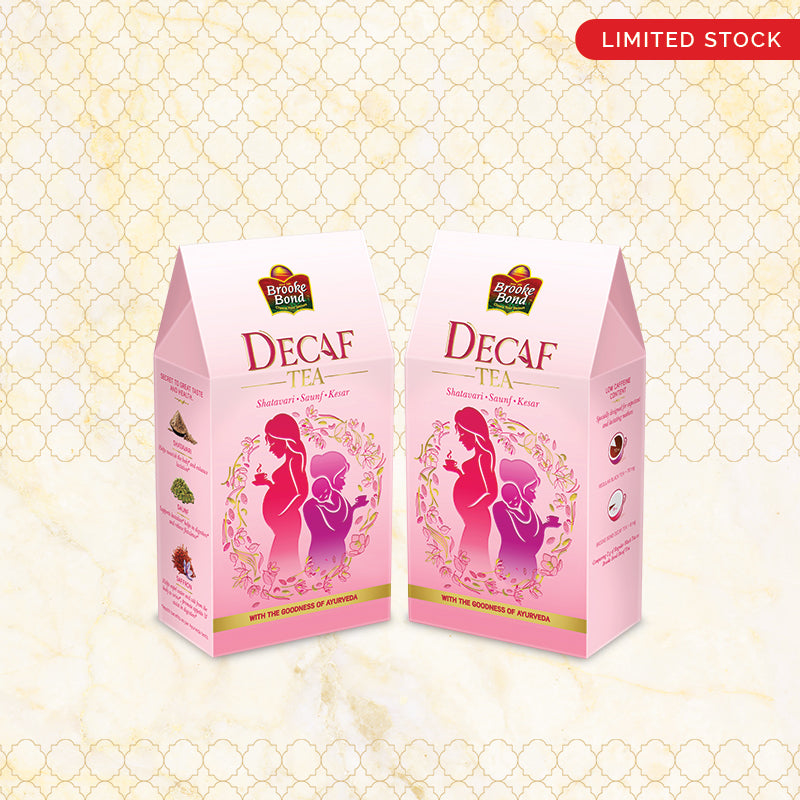 Two Tea Bag Set
(100 g)
Pregnancy comes with a lot of consciousness about what to eat and drink. Keeping up your chai habit during pregnancy and breast feeding just got easier. Brooke Bond's Decaf tea is specially designed/ crafted for expectant and lactating moms. It has only close to 8mg of caffeine compared to approximate 70mg of caffeine in a usual cup of tea. Its low caffeine content makes it good for you while the ayurvedic ingredients not only ensure great taste but is traditionally known to nourish and energise the body.
Product Information
DECAF Tea "With goodness of Ayurveda"
Shatavari- Reduce fatigue and nourishes the body and helps cope up during this crucial period
Saunf (Fennel)- The fennel seeds have gastrointestinal benefits and help in improving digestion and also helps relieve flatulence. It is also known to support in lactation.
Saffron (Kesar)- It is known to help in expel water and salt from body as urine. It is also known to enhance appetite and is commonly consumed to help in digestion.