Royal Saffron Tea (Chai)
(50 g)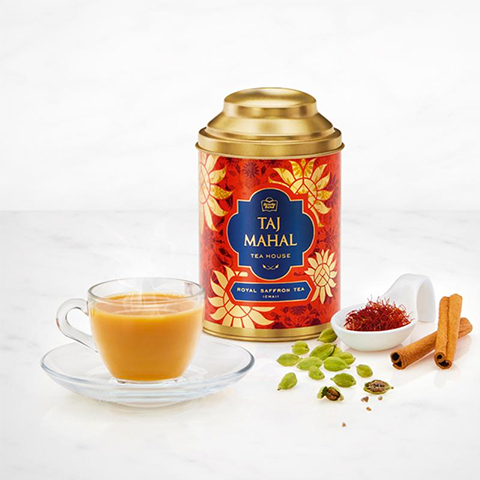 Royal Saffron Tea (Chai)
(50 g)
Celebrating one of the world's most coveted spices, the Kashmir Saffron, when added to the Indian milky tea (Chai), makes for an extravagant experience of enjoying the Taj Mahal Royal Saffron Tea. Relish the exotic flavours of kesar with a cup of Taj Mahal Royal Saffron Tea. This Saffron Teamakes for a perfect gift for those with a royal taste.
Taste Note: Spicy with saffron hints
This product includes: 1 tea tin (50grams)
Tea is hermetically-sealed to retain maximum freshness and flavour.

Country of Origin - India
Product Information
Royal Saffron Tea (Chai)
The magical landscape of Kashmir serves up more than just enchanting views; the beautiful flavours of the royal saffron, for one. Responsible for the aromatic and delicate brew of this royal tea, the main ingredient, saffron or royal kesar is one of the rarest and prized spices in the world. With the Taj Mahal Royal Saffron Tea, you're sure to be transported to an exquisite state of mind.
The Taj Mahal Royal Saffron tea is a mood elevating, indulgent tea that is bound to satiate your cravings for something sweet.
FAQs
What is saffron tea?
The Taj Mahal Royal Saffron Tea is a mix of premium tea with cardamom, cinnamon, saffron, fennel, mint, nutmeg, and black pepper.
What does Royal Saffron Tea taste like?
The Taj Mahal Royal Saffron tea has an extravagant, spicy flavour with hints of royal Kashmiri saffron.
How to make saffron tea?
Bring one cup (125ml) of water and one cup (125ml) of milk to a boil. Add two teaspoons (5.6 g) of your tea, and sugar to taste. Boil for another three minutes and your Royal Saffron Tea is ready to drink!