Bold Spices Tea (Masala Chai)
(100 g)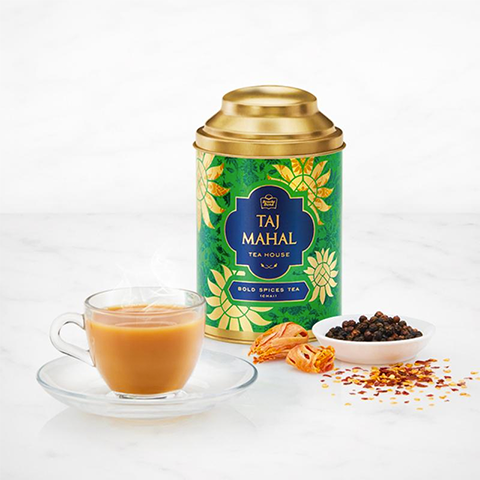 Bold Spices Tea (Masala Chai)
(100 g)
The Taj Mahal Bold Spices Tea - the traditional Indian milky tea, now bursting with rich spices. The Bold Spices Tea (Chai) promises a perfect gift for those with a palate for intense flavours. Buy this masala tea online and start your mornings on a strong note.
Taste Note: Spicy milky tea
This product includes: 1 tea tin (100 grams)
Tea is hermetically-sealed to retain maximum freshness and flavour.
Country of Origin - India
Product Information
Bold Spices Tea (Masala Chai)
You first notice the bold flavours of clove, cardamom, and cinnamon. And, after a moment, the fiery red chilli and black pepper make their presence felt. This Taj Mahal Masala Tea is the perfect elixir for spice seekers.
The Taj Mahal Bold Spices tea gives a perked up sensation with 'bold' chilli aftertaste that will freshen your senses
FAQs
What is Taj Mahal Masala tea made of?
The Taj Mahal Bold Spices tea is a premium tea mixture having red chilli, cardamom, cinnamon, clove, nutmeg, bay leaves, and black pepper.
Is Bold Spices tea the same as normal masala tea?
The strength and astringency of the premium tea with the combination of spices brings an additional fiery and warming effect with every sip of the Taj Mahal Bold spices tea, unlike the usual masala chai.
What does Bold Spices tea taste like?
The Taj Mahal Bold Spices Tea has a very bold taste of tea mixed with various spices with a chilli aftertaste.
How do you make Taj Mahal Masala Tea?
Bring one cup (125ml) of water and one cup (125ml) of milk to a boil. Add two teaspoons (5.6 g) of your tea, and sugar to taste. Boil for another three minutes, then pour and enjoy your Bold Spices tea!