Assorted Tea Gift Box
(3 x 100 g)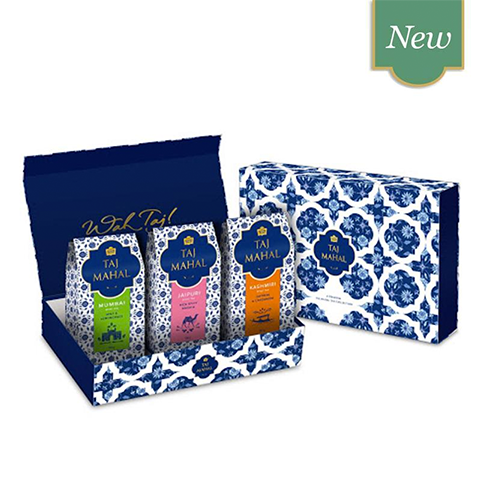 Assorted Tea Gift Box
(3 x 100 g)
Premium Spice Tea Flavours
The Taj Mahal Tea Assorted Tea Gift Box With 3 Masala Tea Blends is one elegant gift. Right from the unique packaging to the exclusive spice tea flavours, every element of this gift box radiates premium taste.
Each of the 3 masala flavoured tea in this assorted gift box promise a truly unique experience in a tea cup. Tea leaves sourced from the finest estates in Assam are transformed into exclusive blends in the Chef's kitchen to deliver a distinct experience; a bold burst of flavours, a soothing taste, and a royally aromatic cup.
The price of this premium gift box includes the cost of the tea & the gift box.
*Tea is hermetically-sealed to retain maximum freshness and flavour.
Country of Origin - India
Product Information
KASHMIRI SPICE TEA - SAFFRON & CARDAMOM
The misty valleys of Kashmir have inspired this delicate flavoured tea, immersed with the taste of exotic saffron, cherished cardamom and other aromatic spices to give you a sweet and pleasant aftertaste.
JAIPURI SPICE TEA - RICH SPICY MASALA
The recipes from Jaipur's royal kitchens have inspired this bold flavoured tea, infused with the taste of a spicy masala of clove, red chili and other rich spices, to give you a strong and distinctive taste.
MUMBAI SPICE TEA - MINT & LEMONGRASS
A special tea inspired by Mumbai's vibrant energy. This zesty flavoured tea is infused with the taste of mint, lemongrass and other flavourful spices to give you a refreshing and aromatic aftertaste.
These unique flavours are perfect for gifting and you can be assured that the recipients of this gift will remember you with every sip from their tea cup.
FAQs