Spice Delight Milk Tea Gift Box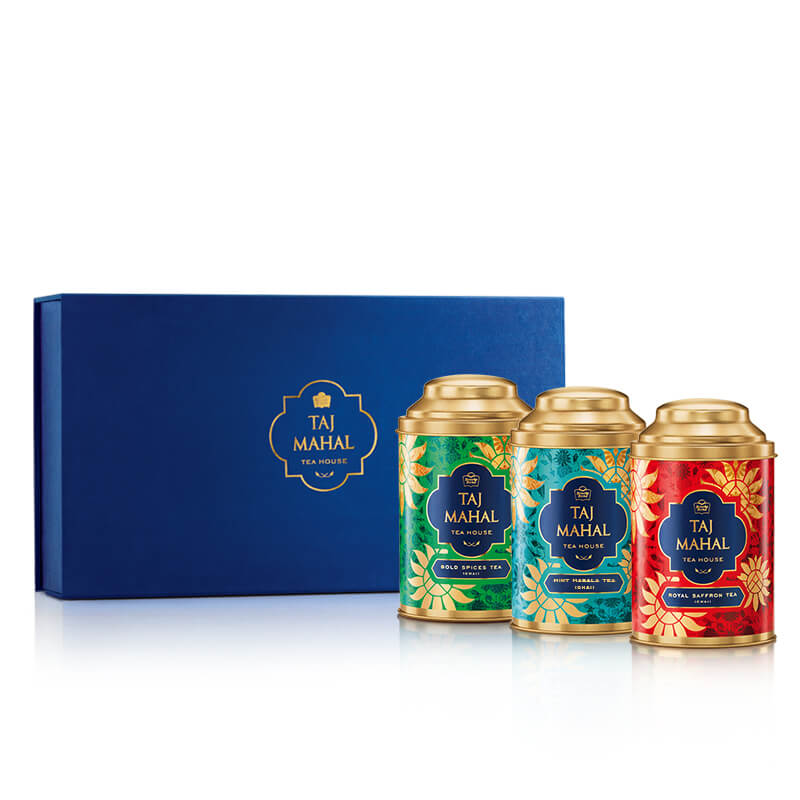 Spice Delight Milk Tea Gift Box
For years, the world coveted India's spice treasure. This gift box revisits this age-old love affair by bringing together three celebrated spice Chais — the Mint Masala Tea, Royal Saffron Tea, and Bold Spices Tea — into one imperial gift.
This Gift box includes: 3 tea tins ( Mint Masala Tea: 100 grams, Royal Saffron Tea: 50 grams, Bold Spices Tea: 100 grams)
The price of this premium gift box includes the cost of the tea & the gift box. Units are not available individually.
Tea is vacuum-sealed to retain maximum freshness and flavour.

Product Information
Mint Masala Tea (Chai)
Packed with an invigorating combination of ginger, mint, and scented tones of lemongrass, Mint Masala Tea (Chai) is pure comfort in a cup. It comprises a revitalising infusion that has been known to inspire ideas and spark lively conversations.
Royal Saffron Tea (Chai)
The magical landscape of Kashmir serves up more than enchanting views; the beautiful flavours, for one. The magic behind this aromatic and delicate brew can be attributed to its key ingredient: saffron, one of the rarest and prized spices in the world.
Bold Spices Tea (Chai)
You first notice the bold flavours of clove, ginger, nutmeg, cardamom, and cinnamon. And, after a moment, the fiery red chilli and black pepper make their presence felt. It's the perfect elixir for spice seekers.
FAQs