Hindol Bone China Gift Set for Four with Darjeeling 2nd Flush Tea and Accessories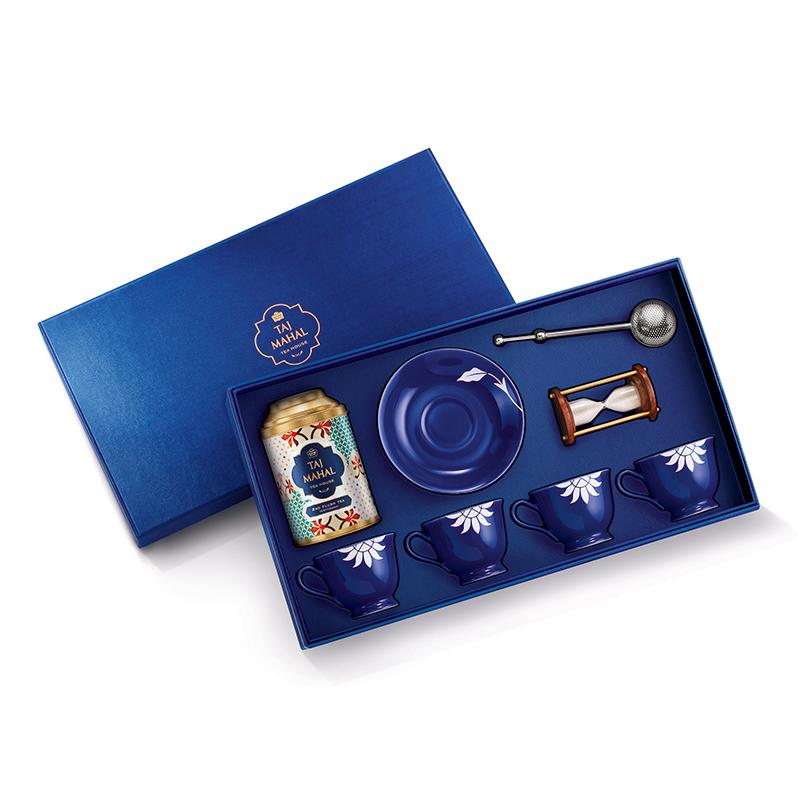 Hindol Bone China Gift Set for Four with Darjeeling 2nd Flush Tea and Accessories
A gift that seals in the joys of the Hindol Raga and early spring mornings, it is ideal for those who enjoy hosting cheerful tea parties. Reflecting the delicate abundance associated with the first bloom, the Hindol Bone China Gift Set for Four comprises elements that ensure a perfect tea ritual.
The Darjeeling Second Flush is a 2nd harvest seasonal, smooth & strong cup of tea, best enjoyed without milk. Tea is hermetically-sealed to retain maximum freshness and flavour.
This Gift box includes: 1 tea tin (100 grams), a set of 4 bone china cups and saucers, timer and infuser.
Gift Box Dimensions: (18" x 10" x 4")
The price of this premium gift box includes the cost of the tea, the merchandise & the gift box. Units are not available individually.
Product Information
Hindol Collection Teaware
The Hindol Collection balances traditional colours with contemporary style, in a striking combination of cobalt blue and white. The flowers, leaves and tendrils that adorn the white marble of the Taj Mahal, seen in the Italian 'pietra dura' art, or 'parchin kari' (as known in South Asia), are re-imagined to produce a unique design. A long leaf rests along the edge of the saucer, while the flower petals appear to spill out of the cup's rim.
The timer and the infuser further augment the exquisite tea drinking experience offered by this gift set.
Darjeeling 2nd Flush Tea
Darjeeling Tea yields its finest quality after spring. Carefully handpicked during the months of May and June, the tea leaves of the Second Flush have beautiful purplish blooms, with silver tips. In contrast to the First Flush, this yield retains a darker amber hue and a stronger, fuller body, but with a smoother finish. It is savoured the world over for its unique, sweet and fruity muscatel grape flavour.
Accessories
Infuser
Our infuser helps brew every cup of tea to perfection.
Directions for use:
1. Push open and add the tea leaves in the infuser. Close the infuser and insert it in hot water.
2. Let it remain in hot water, as per the time indicated on the selected tea.
3. After steeping, remove the infuser from the cup and empty the tea leaves.

Timer
Steep the tea for the right amount of time for a perfect taste and flavour.
Begin by simply placing this two-minute timer with all the sand on the top. When all the sand trickles down to the lower chamber, two minutes are up.
FAQs