Bahar 24K Gold Plated Gift Set for Two with Assam Flaming Hue Tea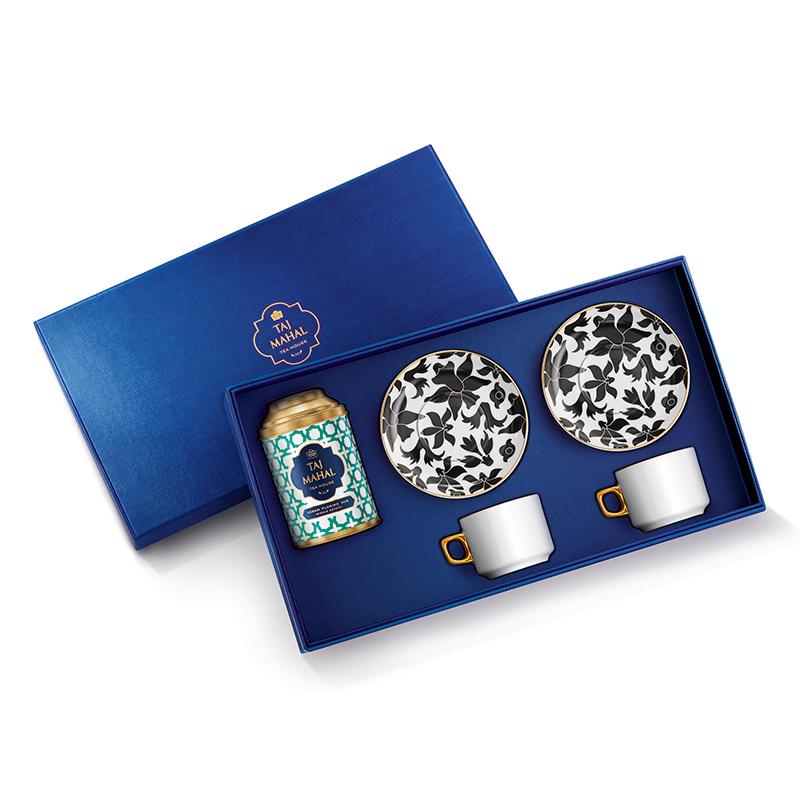 Bahar 24K Gold Plated Gift Set for Two with Assam Flaming Hue Tea
The Bahar 24K Gold Plated Gift Set for Two promises to elevate a teatime for two into a fine and indulgent experience. Depictive of Bahar, the raga associated with midnight, it creates a mood inspired by a rich spring bloom; best treasured by those who have a taste for opulence.
The Flaming Hue Tea is an Assam Whole leaf, strong tea with floral taste best enjoyed without milk. Tea is hermetically-sealed to retain maximum freshness and flavour

This Gift box includes: 1 tea tin (100 grams), a set of 2 fine bone china cups and saucers.
Gift Box Dimensions: (18" x 10" x 4")
The price of this premium gift box includes the cost of the tea, the merchandise & the gift box. Units are not available individually.
Product Information
Bahar Collection Teaware
Inspired by Taj Mahal's intricate floral engravings, the Bahar Collection features black flowers swirling in a gentle breeze. They go on to settle on a white, pristine surface, reminiscent of the monument's luminous marble. Floral motifs in black adorn the saucer. This creates a striking contrast with the cup. And the beauty is augmented with the rim and handle, which have been elegantly finished in 24-karat gold plating.
Assam Flaming Hue Tea
The finest quality clonal tea bushes from an Assam tea estate, the gentlest pair of hands, and the most tender tea buds — these result in perfectly rolled whole leaves with bright golden tips and bloom. When brewed, we get a distinct Assam brew, rich and robust, but balanced with a delicate floral flavour.
FAQs