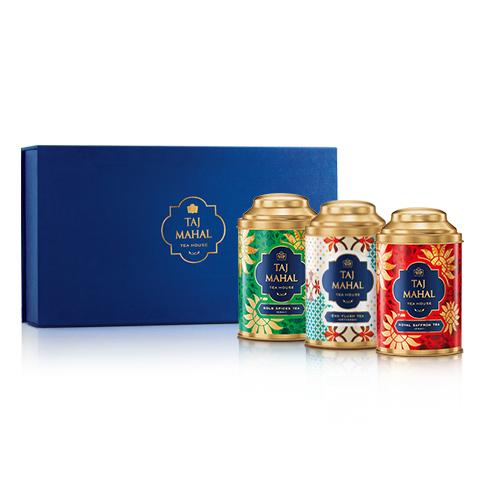 3 Tin Gift Box
Our Limited Edition Offerings include spiced Gourmet Tea in two premium exquisite flavors for chai lovers. Meanwhile, our connoisseurs of Clear Tea would appreciate our special handpicked aromatic tea leaves, suited well to the sophisticated palate.
The price of this premium gift box includes the cost of the tea & the gift box.
Tea is hermetically-sealed to retain maximum freshness and flavour.
Country of Origin - India
Product Information
Royal Saffron Tea: The magical landscape of Kashmir serves up more than enchanting views; the beautiful flavours, for one. The magic behind this aromatic and delicate brew can be attributed to its key ingredient: saffron, one of the rarest and prized spices in the world.
Bold Spices Tea: You first notice the bold flavours of clove, ginger, nutmeg, cardamom, and cinnamon. And, after a moment, the fiery red chilli and black pepper make their presence felt. It's the perfect elixir for spice seekers.
Darjeeling 2nd Flush Tea: This tea yields its finest quality after spring. Carefully handpicked during the months of May and June, the tea leaves of the Second Flush have beautiful purplish blooms. In contrast to the First Flush, this yield retains a darker amber hue and a stronger, fuller body, but with a smoother finish. It is savoured the world over for its unique, sweet and fruity muscatel grape flavour.